North Atlantic Salmon Conservation Organization
The North Atlantic Salmon Conservation Organization (NASCO) enables five Governments and the European Union to co-operate to conserve wild Atlantic salmon.
Our objective is to conserve, restore, enhance and rationally manage Atlantic salmon through international co-operation taking account of the best available scientific information.
The Parties to the Convention are Canada, Denmark (in respect of the Faroe Islands and Greenland), the European Union, Norway, the Russian Federation and the United States of America.
France (in respect of St. Pierre & Miquelon) attends NASCO's meetings as an observer. Iceland withdrew from NASCO with effect from 31 December 2009 because of financial considerations.
The work of NASCO is governed formally by the Convention and Rules of Procedure, found in the Handbook of Basic Texts.
The official languages of the Organization are English and French.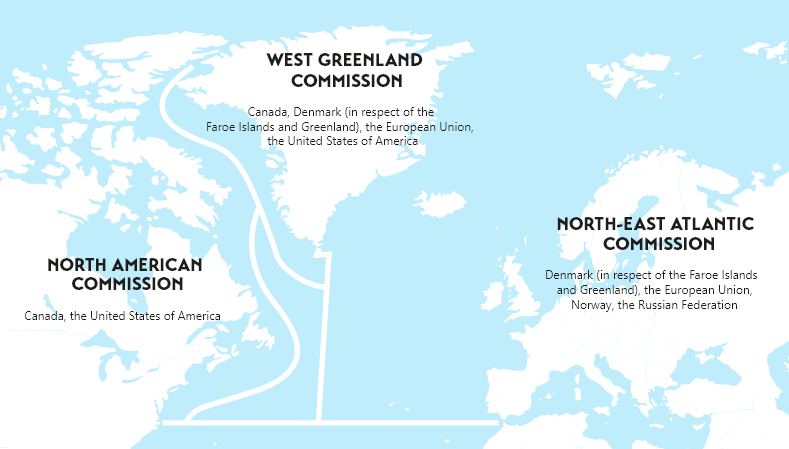 Prior to the 1960s, exploitation of salmon in the North Atlantic was at a national level. The subsequent development of fisheries at West Greenland and in the Northern Norwegian Sea meant that rational management could only be achieved through international cooperation.
The United Nations Convention on the Law of the Sea (UNCLOS), an international treaty, was adopted and signed in 1982. Article 66 concerns the management of anadromous fish, such as the Atlantic salmon. It states (amongst other things):
In cases where anadromous stocks migrate into or through the waters landward of the outer limits of the exclusive economic zone of a State other than the State of origin, such State shall cooperate with the State of origin with regard to the conservation and management of such stocks.
The State of origin of anadromous stocks and other States fishing these stocks shall make arrangements for the implementation of the provisions of this article, where appropriate, through regional organizations.
The Convention created a large protected zone, free of targeted fisheries for Atlantic salmon in most areas beyond 12 nautical miles from the coast. One immediate effect was the cessation of the salmon fishery in the Northern Norwegian Sea which at its peak in 1970 harvested almost 1,000 tonnes of salmon.
In the late 1980s and early 1990s, NASCO acted through diplomatic initiatives to address fishing for salmon in international waters by vessels registered to non-NASCO Parties. There have been no reports of such activities since.
While NASCO's initial focus was on developing management measures for the distant-water fisheries at West Greenland and the Faroe Islands, it is widely accepted that conservation and restoration of salmon stocks cannot be achieved by these measures alone.
NASCO has broadened its base and now addresses a wide range of issues including management of salmon fisheries by States of Origin, habitat protection and restoration and aquaculture and related activities. Agreements and Guidelines have been developed on each of these topic areas.
Reports on the Activities of NASCO